Description
The Most Popular Popup Extension in the Joomla! Market
Here's why more than 5,000 website owners love EngageBox, and you will too!
Popup Types
Choose the perfect popup type to display the most attention-grabbing
message to your visitors for maximum engagement.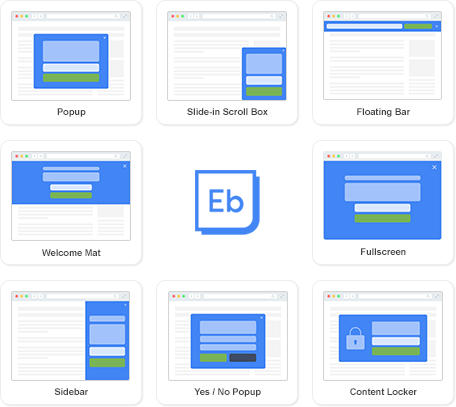 Popup
The most effective and popular way to grow your email list.
Fullscreen
Create a fullscreen box with a call to action that can't be ignored.
Slide-in Scroll Box
High-converting alternative for popup that slides from the corner.
Floating Bar
Increase conversion with a footer or header sticky bar.
Sidebar Box
Turn every page of your website into a lead generation opportunity.
Yes / No
Let visitor choose the action they want to take next.
Welcome Mat
A screen-filling box that slides-in and pushes the content down.
Content Lock
Turn a page into premium content and watch your email list grow.
Smart Triggers
Detect your visitors' behavior and use smart triggers to
display the right popup to the right person at the right time.
Exit Intent
Recover abandoning visitors into subscribers and customers.
On Scroll
Automatically display a popup when user scrolls % of page.
On Click
Show a popup when the user clicks on a button, link or banner.
Timed Display Control
Trigger a popup after X seconds of browsing a page.
On Page Load
Automatically display a popup when a visitor opens your site.
On Hover
Show a popup when user hovers on specific parts of the page.
Idle Trigger
Target inactive visitors and convert them into subscribers.
AdBlock Detect
Detect visitors who are using an Ad Blocker software.
Advanced Targeting
Every visitor is different. Why treat them all the same?
Use precision targeting to show relevant messages.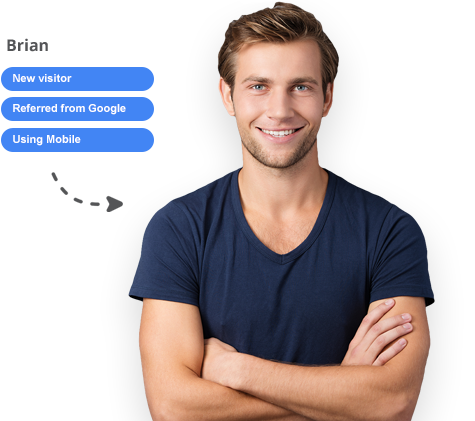 Referrer Detection
Show targeted messages based on where the user is coming from.
Page-Level Targeting
Show targeted popups based on the page the user is browsing.
Cookie Retargeting
Fine-tune your personalization with custom cookie retargeting.
Geo-Location Targeting
Personalize popups based on the visitor's physical location.
Device-Based Targeting
Create unique popups for desktop, tablet or mobile devices.
Date & Time Targeting
Target visitors based on the current date and time.
Page Views Count
Display specific offer after the user visits X amount of pages.
Joomla! User Group
Show different messages to logged-in and guest users.
Integrations & Apps
Create popups that react and adapt in real time so
you can easily personalize, segment, and target for incredible conversions.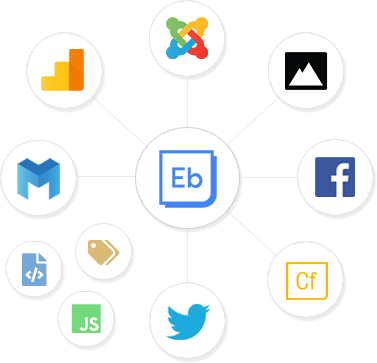 Google Analytics
Track popup events with your Google Analytics account.
Joomla! Modules Support
Transform any Joomla! module into a popup easily!
Joomla! Articles
Display popup to users who are browsing specific Joomla Articles.
K2
Display unique popups to users browsing specific K2 Items.
AcyMailing
Target visitors subscribed to specific AcyMailing lists.
Social Media Widgets
Promote your Facebook Page or Twitter account easily!
Smart Tags
Personalize your popups with dynamic smart content.
Custom CSS/JavaScript
Extend popup functionality by adding custom scripts and CSS.
You're in good hands
Thousands of Joomla! users trust EngageBox
to take care their popup needs.
2014
The year EngageBox was first came out
440+
5-star confirmed reviews on JED
5k+
Active users are growing with us
Frequently Asked Questions
Who should use EngageBox?
What's required to use EngageBox?
Do I need to have coding skills to use EngageBox?
What type of conversions can I expect?
What if a visitor has a pop-up blocker enabled?
Will EngageBox slow down my site?
Can I use EngageBox on WordPress?
Can I cancel, upgrade, or downgrade later?
What happens if my subscription expires or is cancelled?
Which methods of payment do you accept?
Is there any discount on renewals?
Do you offer discounts to non-profit organizations?
I've just paid. Can I upgrade to a higher plan now?
Can I request a refund?
Can I install it on multiple sites?
Do you offer a trial or demo version?
How do you provide support?
Does it work on non-Joomla sites?