JomSocial PRO – social network component for Joomla
At JomSocial, we have eight years of experience helping Joomla users create fantastic online communities. We know what it takes to bring people together and…
JomSocial for Joomla 4 is here!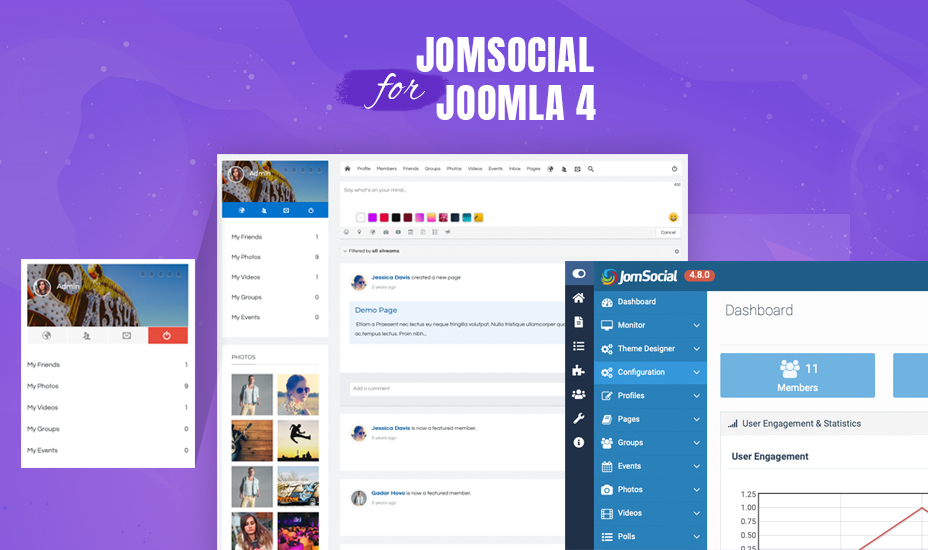 Hi guys,
We know how excited you are about Joomla 4. Joomla 4 brings a huge upgrade to the CMS, amazing new features to build a beautiful, scalable website that will grow with your business.
We are so happy to say that JomSocial for Joomla 4 is here. This major update includes core updates in JomSocial components, themes, templates and add-ons to work perfectly with the latest Joomla 4 – Joomla 4.0.3 and Joomla 3.10.2. Please check the update details below:
JomSocial Component and 17 add-ons: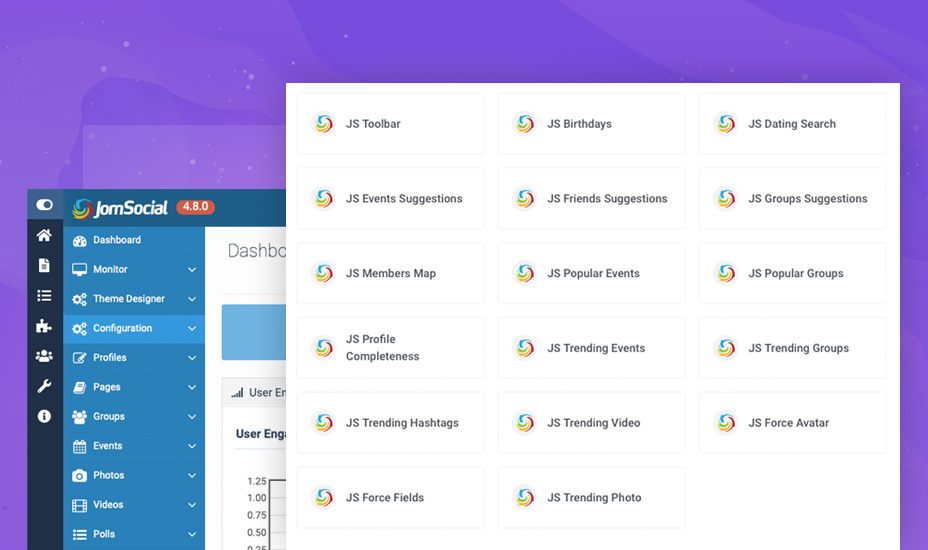 JomSocial component and 17 add-ons version 4.8.0 are all updated to the latest Joomla 4 – Joomla 4.0.3 and Joomla 3.10.2
JS Toolbar
JS Birthdays
JS Dating Search
JS Events Suggestions
JS Friends Suggestions
JS Groups Suggestions
JS Members Map
JS Popular Events
JS Popular Groups
JS Profile Completeness
JS Trending Events
JS Trending Groups
JS Trending Hashtags
JS Trending Video
JS Force Avatar
JS Trending Photo
JS Force Fields
2 JomSocial pro templates:
1. Socialize template – version 2.0.1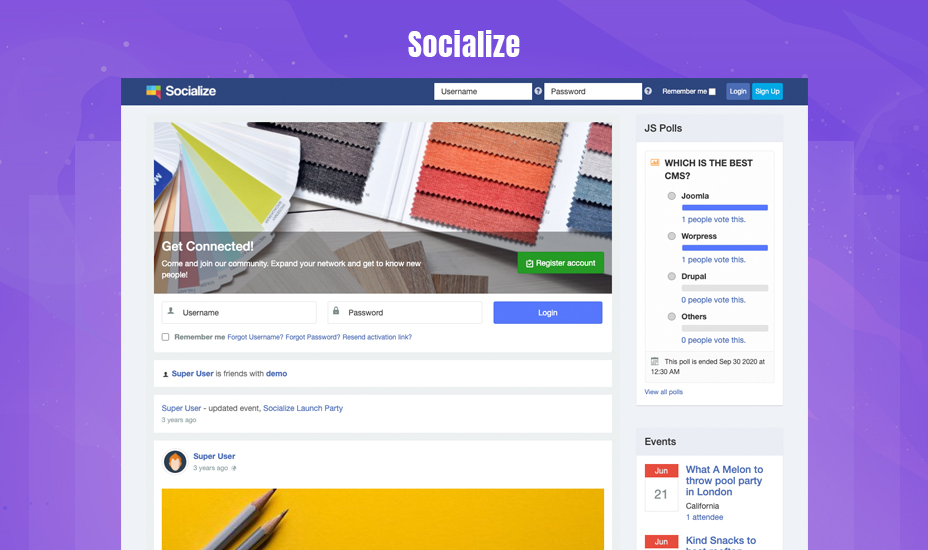 Socialize is JomSocial Responsive Template to help you easily transform your regular Joomla site into a slick, professional social network powered by JomSocial. The JomSocial template supports all JomSocial pages and functions with customized style.
2. JA Mood template – version 2.0.1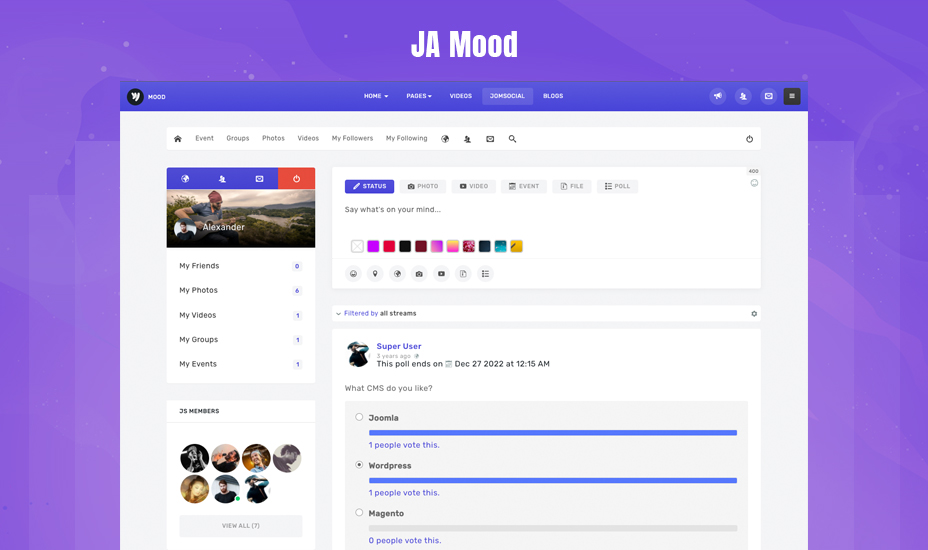 JA Mood is Stunning music, community and social Joomla template designed by JoomlArt. The Joomla template fully supports JomSocial component with creative design. All JomSocial page style is customized to fit the template design.
More JomSocial templates will be updated gradually
4 JomSocial pro themes:
Beside the default theme, JomSocial supports 4 additional themes for the best user experience. All JomSocial themes are updated for JomSocial 4.8 and Joomla 4 support.
1. JS Flat theme: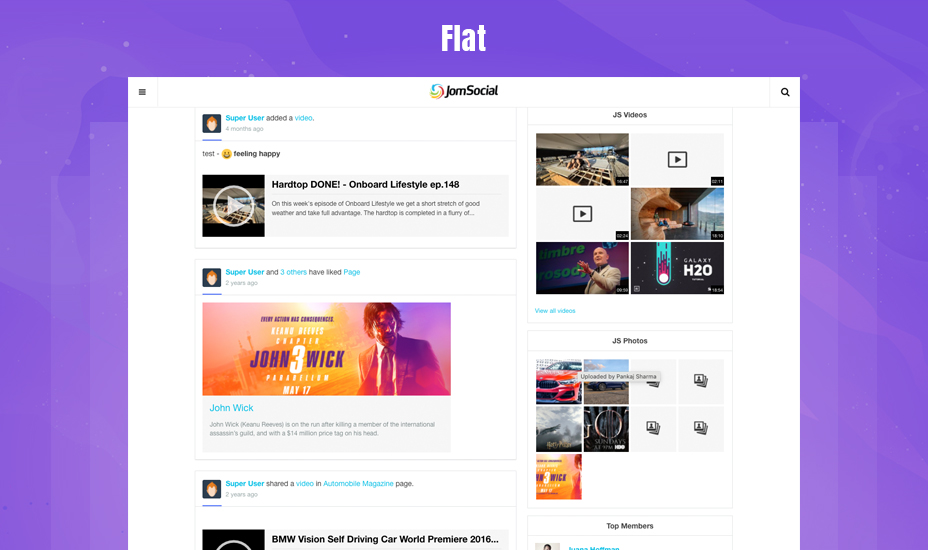 Flat design is a design trend for years. If you have a JomSocial website base and want to switch to a flat design, our new Flat theme will help you. Super simple, copy theme folder to JomSocial "template" folder and make it as default theme and you will have a Social website with flat design.
2. JS Column
If this is a plugin and the theme must be unzipped then upload. If it's PHP script or Android source code and other items then check the docs file available on the zip file. For info write to:
[email protected]
Instant Downloads

Unlimited Domain Use

Access to 15K Downloads
Our support team is available from (Mon-Fri) 11:00 AM to 5:00 PM. (GMT+5:30).
You can contact them through the contact box. You can create support ticket for better support.
Premium items are fully managed by the team at Maxkinon. No security patches. No update nags. It just works.
From Maxkinon Marketplace premium plugins and themes to thousands more item we've got you covered.
Pay yearly and save. Or keep it flexible with monthly premium plugin pricing. It's entirely up to you.