Call My Cab is the most advanced online cab booking and dispatch system to drive your business into the future. It is a very helpful hybrid mobile app  solution for Car,Taxi and Cab Rental business that helps to increase taxi booking orders and to boost customer satisfaction. Deploying the latest GPS technology, Call My Cab creates a full picture of locations of drivers and customers.
Key Benefits
Awesome UI design
Separate apps for driver and passenger
One step and easy booking process.
Point to point transfer.
Google API integration for auto complete.
Option for setting cab types.
Display all booking details.
By Hand Payment method.
Customizable- Full Source Code.
Supports Android, IOS
Auto select current locations
Ride Later provisions
Vehicle Type & Price calculate.
Multilingual Support.
Driver Features
Driver registration / login
Calculating final fare on the basis of Miles
Checkride status
View information about travel routes.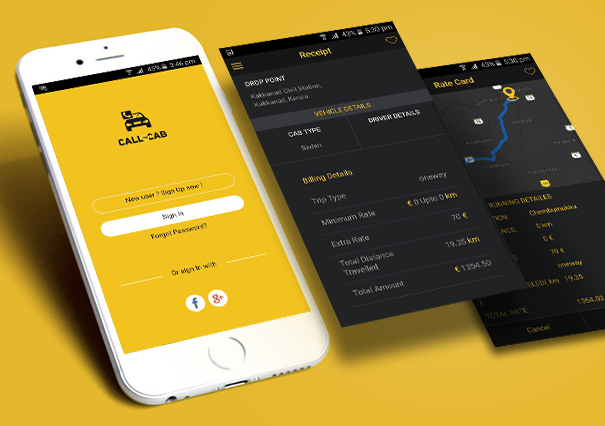 Passenger Features
User registration / login
Choose cab service.
Automatic current location update.
Option to book future rides.
View ride history.
Rate card visibility.
App demo video:
User App:
https://www.youtube.com/watch?v=7qyjr5qsd3s
Driver App:
Play store demo link:  
User :
https://play.google.com/store/apps/details?id=com.techware.callMyCab
Username: user
Password: user
Driver :
https://play.google.com/store/apps/details?id=com.techware.callMyCabDriver
Username: driver
Password: 123456
WHAT YOU GET?
Sample apk for driver and passenger
source files
Documentation guide
Possible additional enhancement of CALL MY CAB from Techware
Customization for Social Login
Customization to add different mode of vehicle like Bicycle,Motor Bike etc.
Customization to view cabs close by user area on the map.
Customization for options on booking types
a)     Airport transfer.
b)     Hourly transfer.
c)     Outstation transfer.
Customization for wallet option
Customization for Driver Tracking
Customization fo Uber Clone
Customization to add Push Notification
Customization for drivers to upload license, adhar etc.
Customization for Payment gateway Integration
Customization to integrate Call My Cab with food delivery system.
Customization for Promo code Management.
Customization for admin to add vendors and view daily incomes.
Customization to add Driver rating
Customization to Track location of the cab during the ride in the app
Customization for Auto dispatch of taxi request to nearest driver.
Customization on Share functionality- Share on G+, Facebook.
Customization for driver to set status available or unavailable.
Need any customization?If so, our expertise development team of Call My Cab App is always here to develop according to your requirements on time, within budget and on value.
Why choose US?
We are one of the  pioneers in Industry,have made a name in taxi software and mobile app development, providing an on demand quality bespoke solution with useful features ,made especially for Taxi Owners, drivers , dispatchers etc.Our Call My Cab App is fully designed to meet the need of a smallest to the largest taxi business. For more information or to get support from us,Click Here or mail to  support@codeinfotec.com
BUY OUR WEBSCRIPT ADMIN PANEL
The administrative module is available at our scripted Call MY Cab. For a perfect working you need the web portal and app to work together. The admin panel in the web script has the features to control and manage the entire site without having to deal with the code. Our Ready-made Cab booking script is basically developed by powerful open source language PHP. Click Here to buy