Description
Intuitive Dashboard
From the dashboard you can see registration statistics (Today, Yesterday, This week, Last week, This month…), upcoming events, and latest registrants. You can also use quick icons to access to:
Configuration
Manage Categories
Manage Events
Manage Locations
Manage Coupons
Manage Custom Fields
Manage Payment Plugins
Manage Emails Messages
Manage Registrants
Export Registrants
Mass Mail Registrants
Manage Countries
Manage States
Translation
Permissions Configuration
Update Events Booking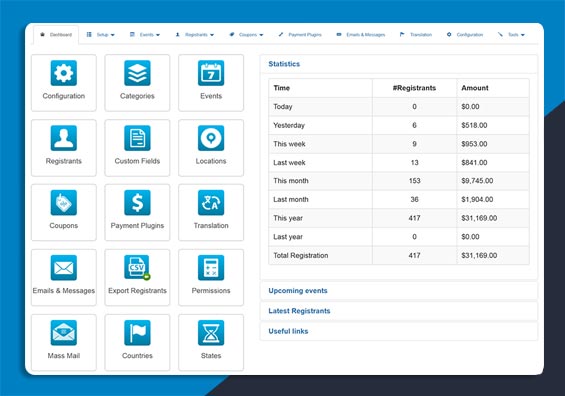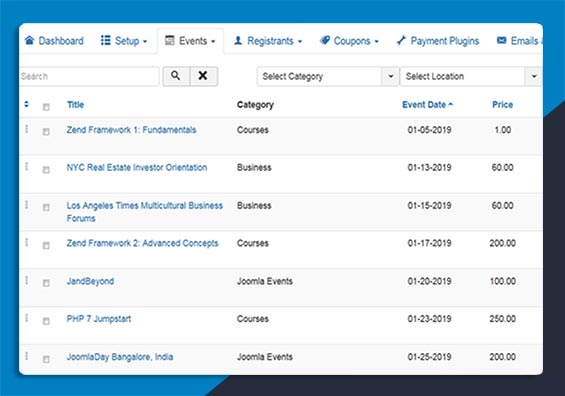 Create, Manage Events
Create any type of event in minutes, from both administrator and frontend of your website.
Free or paid events.
Limited or unlimited number registrants.
Fixed start date or a TBC (to be confirmed) date.
Enable or disable registration (display only events).
Use cut off date to stop accepting registration after certain date.
Use registration start date to only accept registration from certain date.
Registration handled on site or on external website.
Private events: Users can only register for the event if they know event password.
Featured Events: The events will be displayed on top of events list.
Event can be assigned to multiple categories.
Locations/Venues Management
Create locations/venues and assign it to your event to let your users know where your event will be organized on a map using Google Map or OpenStreetMap.
Easy location/venue creation by dragging the marker on the map. When you move the marker on the map, the address of location will be updated automatically.
Auto-complete/suggestion location address as you type.
Display event location/venue on a event details page.
Menu option to display location/venue information (name, address, description, image…) and all events from that location.
Get direction to a location/venue.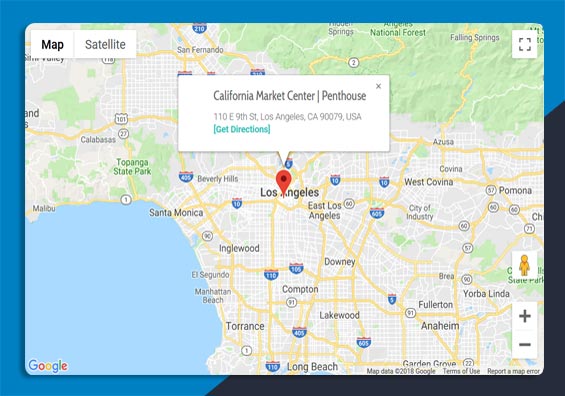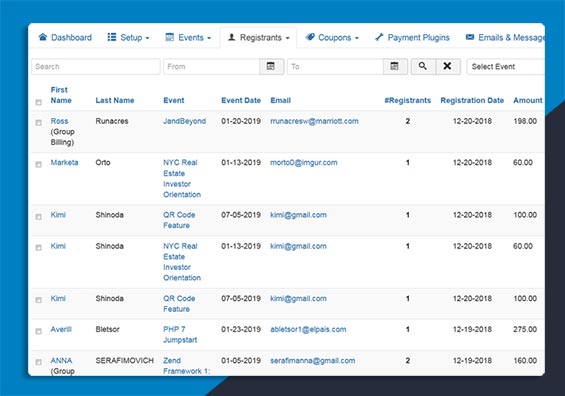 Manage Registrants
View registrants list, search for registrant base first_name, last_name, organization, transaction_id…, filter registrants from a selected event…
Add/edit registration record, add more registrants into an existing group registration.
Approve offline payment registration (after receiving payment from registrants).
Export/Import registrants to/from Excel, CSV file.
Sending mass mail to registrants of an event or to selected registrants.
Resend email (in case registrants don't receive it for some reasons).
Checkin registrants, download invoices, tickets, certificates if needed.
Cancel Registration, Issue Refund if needed.
Modern, Fast Loading Calendar
Display your events on calendar to allow users to browse for events on selected Month, Week or Day.
Support two types of Calendar: Monthly Calendar and Full Calendar.
Super fast page load while events are fetched in a new Ajax process.
Users can navigate easily to find events from the month, year they want.