WooCommerce Coupon Referral Program
Provide Sign-Up & Referral Coupon: · 2. Decide The Discount Amount You Want To Provide:
USE A COUPON REFERRAL PROGRAM AND LET YOUR CUSTOMERS BE YOUR SALES PROMOTER WHILE LEVERAGING COUPON BENEFITS!
WooCommerce Coupon Referral Program Plugin enables your customers to earn coupon rewards for various activities they perform on your website like sharing the referral link to sign up on your WooCommerce store. The admin can also customize the referral button using the predefined options or by applying custom CSS.
With our latest update, you can also limit the number of times a referee can redeem a coupon when a user will sign up using their referral link. WooCommerce Coupon Referral Plugin by WP Swings enables customers to copy the referral code (or link) & share the referral link on social networking sites and through emails.  Admin can also set the minimum limit after which any coupon will be valid and much more.
Why Should You Have A Referral Program Plugin?
Referral marketing is one of the best marketing methods for online stores as marketers can use their existing customers' recommendations and word of mouth for product promotion. Referral systems work so well because people trust the product recommendations and suggestions of their friends or family over any form of advertising. Also, it helps online stores to earn loyal customers, improve customer engagement and increase sales.
So, if you are looking to develop a Referral system for your WooCommerce and aim to utilize your customer base to increase engagement and boost conversation rate, then we have the Coupon Referral Program for WooCommerce. The coupon referral program set up by our plugin rewards the referrer and referred customers with discount coupons. When they complete the required actions, i.e., sharing the referral links, signup, and sales through referrals Online Discount Coupons are offered on.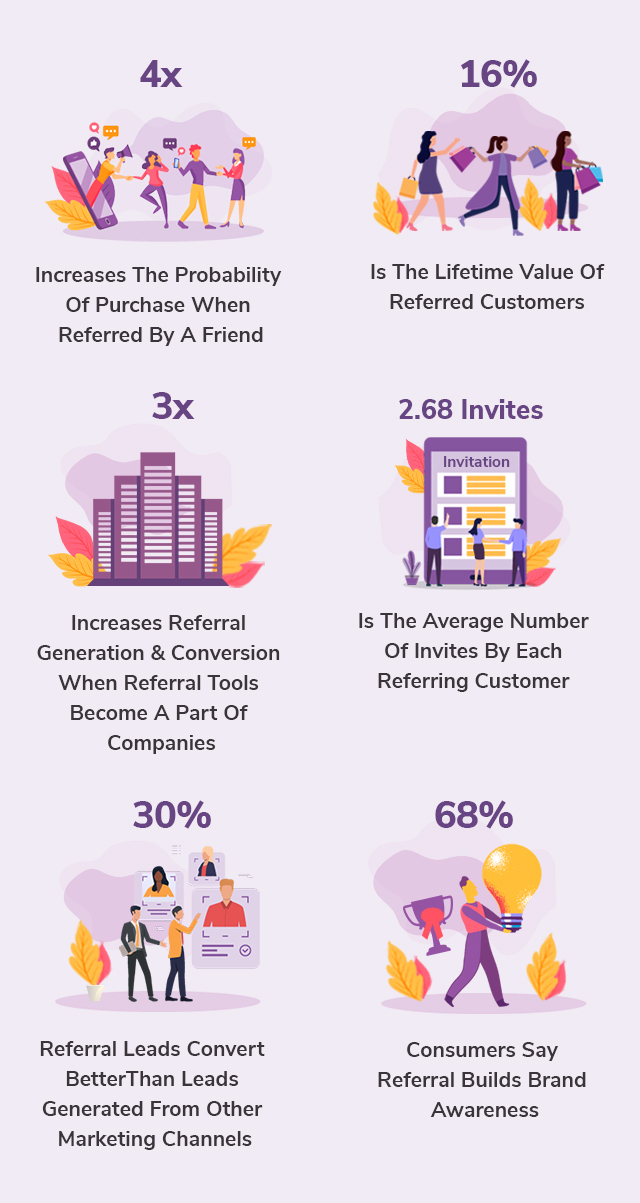 Benefits
1. Builds a Strong Customer Base: The referral coupons offer lucrative deals to attract more and more customers.
2. Improves Interaction & Engagement Rate: Using coupons and referral marketing together elevates the engagement and interaction rate between your business and customers.
3. Strong Customer Loyalty: This coupon WordPress plugin helps you create loyal customers as the referral coupon offers to keep your customers close and connected.
4. Enhances Brand Awareness: The referral marketing approach with coupons helps you to increase your brand awareness among the potential audience.
5. Improves Customer Lifetime Value: The coupon deals keep your customers satisfied and promote their shopping interests. Thus, it helps in improving your customer lifetime value score.
6. Leverages Referral Marketing: It provides the option to share the referral link on Facebook, Twitter, and email. This plugin promotes referral marketing tactics by collaborating with coupon marketing.
7. You Get Full Control: Admin gets control over how many referrals the coupon for the referee will be valid.
Features
1. Provide Sign-Up & Referral Coupon:
Provide sign-up discount coupons to all or only to referred users when they register in your store. Or set criteria for earning the sign-up coupon i.e. your referrers can earn a discount coupon only if their friends sign-up at your store. Reward your referrers and turn them into repeat customers by providing referral discount coupons until the referred users reach the total number of orders up to which referrers can earn the referral discount coupon
2. Limit The Number of Coupons
The latest update in the Coupon Referral Program plugin brings to you the option to limit the number of coupons a referee can redeem by making referrals for new user signups.

3. Decide The Discount Amount You Want To Provide:
Specify the coupon amount you want to provide on sign-up and referral purchase.


4. Set The Days To Remember The Referrer:
Enter the number of days after which referred users can't be rewarded in your WooCommerce store.

5. Coupon Type:
Decide the coupon type you want to provide on sign-up and referral purchase.

6. Referral Link Sharing
It generates a referral link that can be easily copied to your clipboard & shared on social platforms (like Facebook and Twitter) and email inboxes.
7. Customizable Referral Button
Apply animation and custom CSS to make the referral button look more captivating. It can also be customized using the predefined option present in the Display Configuration (i.e. button text, color, position, and background image of the button that will be visible to guest users.)
8. Coupon Reporting
Coupon Reporting can be performed from the admin and customer end to acquire coupon information. Through Coupon Reporting, it's easy to analyze coupon utilization and its effectiveness for users. Businesses can further use this report to better strategize their promotional strategies.
If this is a plugin and the theme must be unzipped then upload. If it's PHP script or Android source code and other items then check the docs file available on the zip file. For info write to:
[email protected]
Instant Downloads

Unlimited Domain Use

Access to 15K Downloads
Our support team is available from (Mon-Fri) 11:00 AM to 5:00 PM. (GMT+5:30).
You can contact them through the contact box. You can create support ticket for better support.
Premium items are fully managed by the team at Maxkinon. No security patches. No update nags. It just works.
From Maxkinon Marketplace premium plugins and themes to thousands more item we've got you covered.
Pay yearly and save. Or keep it flexible with monthly premium plugin pricing. It's entirely up to you.