Whether you sell products and services online or have a physical location, you're likely looking for ways to increase revenue. People are currently staying home and looking for new hobbies or ways to improve themselves. One smart way to make money while you also stay safely at home is by selling online courses.
Online courses are a great solution for any business that can teach a new skill: cooking, exercising, painting, playing an instrument, writing, meal prepping, and more. Since courses don't require physical product development or shipping, they're affordable, fast to create, and can generate passive income for years to come.
But how do you sell online courses and make sure that they're the right fit for your business?
Who can sell online courses?
You can sell courses and workshops by themselves or in combination with existing products and services. Here are just a few possibilities:
Let's say that you normally teach art classes and workshops in a physical storefront, but it's temporarily closed. To generate extra revenue, you could sell online painting courses, some geared towards kids and others towards adults. You might include quizzes on color theory, printable painting templates, and videos walking students through techniques. You could even sell courses that include a physical kit with everything they need — paint, paper, brushes, and more. Not only would this supplement your income, it would offer a new hobby for people bored at home that wouldn't require a trip to the store.
Here's another example: Maybe you're a chef at a restaurant that's only fulfilling takeout orders right now. One way to generate extra revenue is to sell produce and online grocery boxes like these companies did, but another option is to offer cooking classes that customers can use to improve their skills. Film videos of yourself preparing dishes (using items from your grocery boxes!) and provide downloadable recipes. You might offer one series about baking bread and another about summer grilling to meet the varied needs of your customers.
Or perhaps you're a tutor, with students that are all studying from home. You could create a course for third grade reading or high school SAT prep. Include fun quizzes, downloadable worksheets, and printable activities that keep kids on track. Not only will students benefit from the extra study time, parents will love the help — especially those who were unexpectedly thrust into homeschooling.
The options are endless! Whether you work in food, education, nutrition, music, art, or any other industry, courses are a perfect way to make some additional income.
How do I sell a course online?
Automattic, the people behind WordPress, created a seamless way for you to sell courses, reach new customers, and offer additional physical or digital products all from the same website. Here's what you need:
Combine these tools to generate regular, passive income during (and after!) the pandemic. You can also:
Break up courses into modules and lessons. Make your courses more digestible by categorizing content into smaller groups.
Embed videos from outside sources. Include instructional videos from YouTube, Vimeo, or another solution by simply pasting an embed code into your course. 
Leverage the power of quizzes. Use quizzes to strengthen key concepts and evaluate students' progress.
Protect your courses. Ensure that paying customers are the only ones who can access your courses.
Communicate with students. Send messages back and forth with students directly from the WordPress dashboard and answer any questions they have.
Deliver helpful feedback. Add notes to each incorrect answer when grading quizzes so students know how to improve.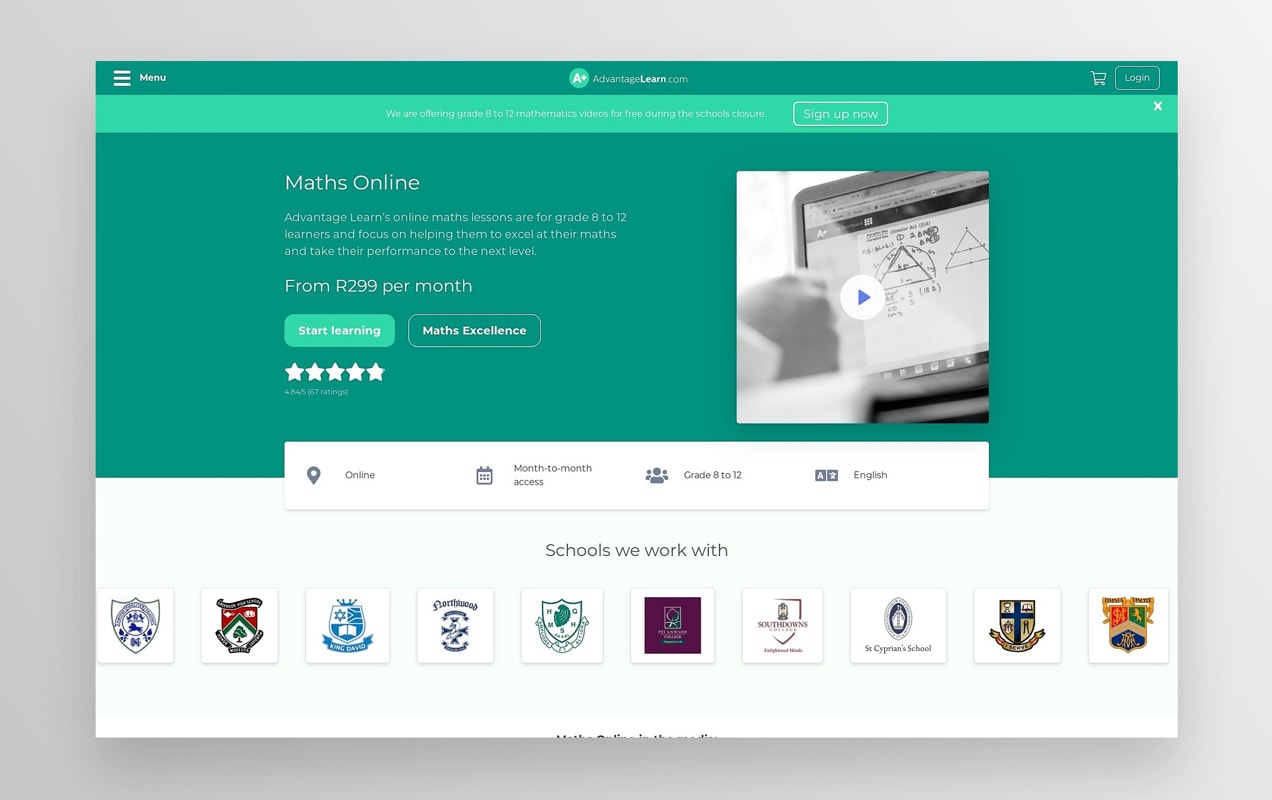 AdvantageLearn.com is a South African education company that uses Sensei LMS to provide educational support to students. Parents can purchase a class — like Maths Online, geared towards grades 8 through 12 — and gain access to video lessons, practice questions, progress tracking, and online support from teachers. This is an excellent way for students to keep up with their skills and continue learning from home.
Sensei LMS is backed by the WooCommerce support team, which is available to answer any questions you may have, and provides detailed documentation to walk you through the setup process.
Ready to start selling courses online? Here's how to get started:
For additional details and information about creating quizzes, adding lessons, managing students, and more, view our full documentation.
What else can I do with online courses?
Since every company, website, and customer is different, it's important that you offer courses in a way that works for your specific situation. That's exactly why Sensei LMS integrates with a variety of other extensions, like: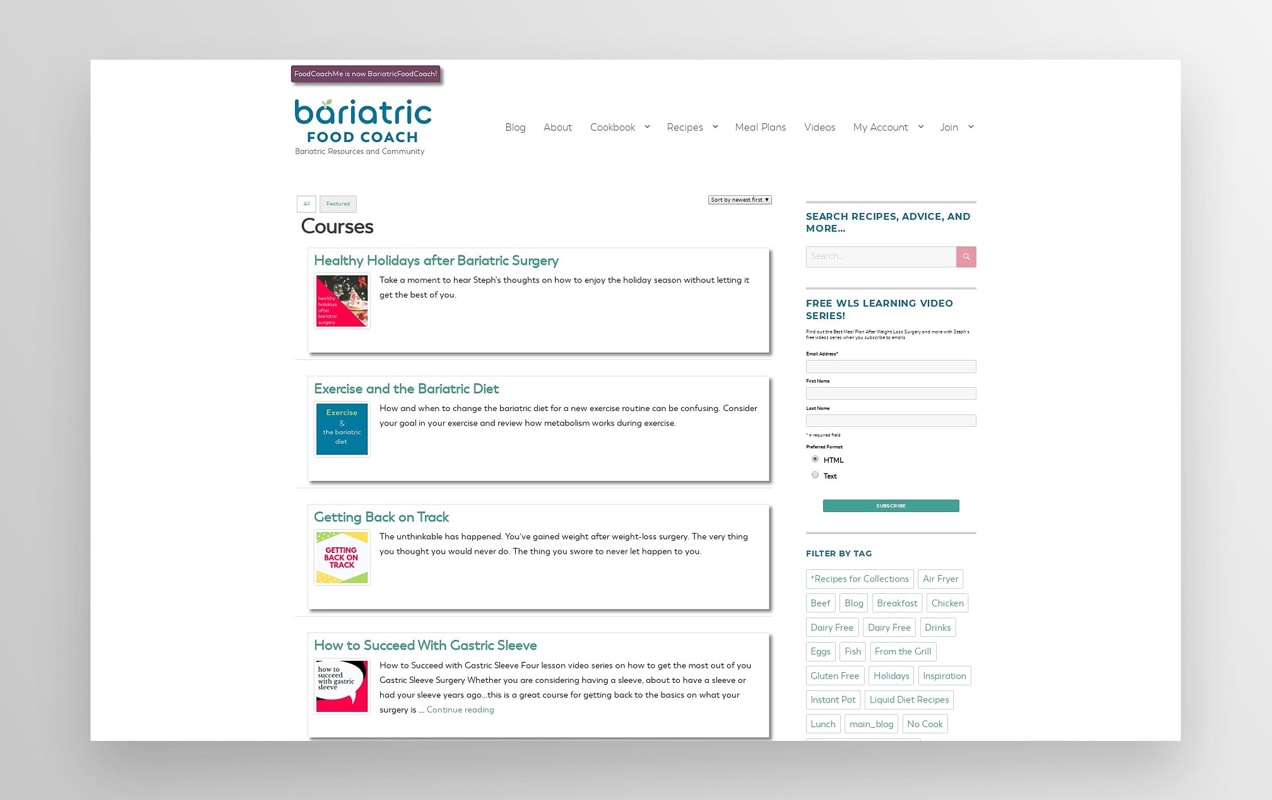 Use any of these extensions on their own or in combination with one another. For instance, Bariatric Food Coach includes courses as part of their membership program. After purchasing a membership, students get access to an online meal planner tool, grocery list generator, library of recipes, and collection of courses and videos. Customers can search courses to find exactly what they're looking for or filter them based on subject.
Be creative! Think about what your customers need — especially during this time period — and adjust your courses to meet those needs.
Start sharing your knowledge
You have unique knowledge and skills that your customers can benefit from — start sharing it with them now! An initial investment in creating online courses can not only help you get through the pandemic, but can generate reliable, passive income for years to come.