Description
CONVERT YOUR LIVE WORDPRESS PAGES INTO PDF. YOU CAN ALLOW YOUR USERS TO SHARE WEB PAGES AND PRODUCTS EASILY USING THIS ULTIMATE WORDPRESS PDF GENERATOR.
PDF Generator for WordPress permits your users to download posts, pages, and products from your WordPress site into PDF format. This facilitates your users to share your web pages or WooCommerce products offsite as well. Moreover, using this WordPress PDF generator will also help you in easy brand dispersal, save time during brand collaborations and so much more.
Besides all the benefits you can think of, the most basic one tops the chart. That is, your users can use this PDF generator for WordPress pages to PDF files to read it later whenever and wherever they want. This also eliminates the hassle of browsing for that particular page again.
Using features like watermark texts, customized header, and customized footers, you also get the ability to promote your brand using the PDF files effectively with a professional outlook. You can use your brand name, logo, watermark, etc. to be displayed on the PDF. This makes readers remember your brand and get back to you again for more resources.
WP Swings is just our improvised and rebranded version with all quality solutions and help to be the same, so no worries at your end. Please Connect with us for all setup, support, and update related queries without hesitation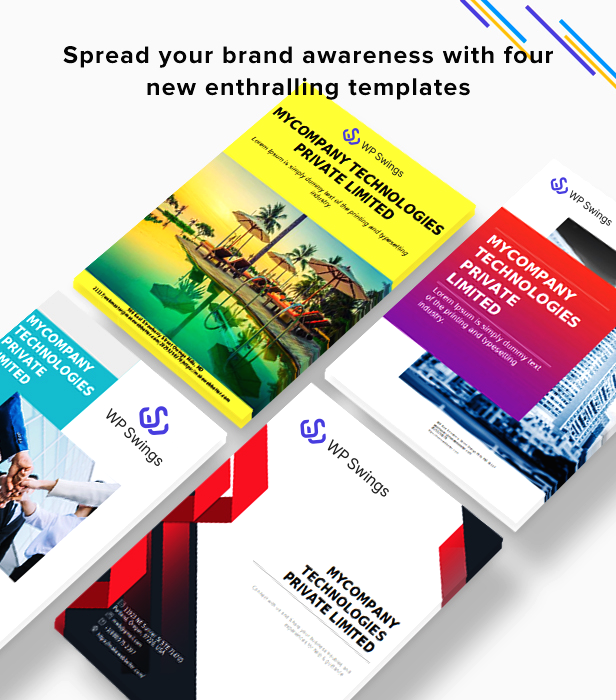 What You Can Do With WordPressPDF Generator
Customize your PDF cover templates as per your brand's theme.
Set custom fonts for the downloadable PDFs.
Let users download and print custom post and meta fields as PDF.
Add your brand logo in PDF header for branding purposes.
Display the feature image of your choice on the cover page.
Apply custom CSS on post contents to style your PDFs.
Allow guest users to get converted posts or pages PDF files in their emails.
Run the plugin for multisite and WPML.
Download the PDF Generator For WordPress Free Version Now.
Benefits of WP Ultimate PDF Generator
One of the major benefits of having the WordPress PDF Generator plugin is effective brand name dispersal.
You allow your users to go across your products, pages, or posts even in an offline mode.
Since anPDF file can be shared across multiple platforms seamlessly, your word-of-mouth marketing strategy gets major support with easy accessibility of your posts.
The plugin is now multisite and WPML compatible, therefore, it provides for native language support.
This PDF generator is built considering the global audience and hence, it supports all the custom fonts and is ready to be translated.
This WordPress PDF generator is compatible with major page builder plugins like WP Bakery, Gutenberg, ACF, etc.
You can customize almost every element available on your page such as, header, footer, fonts, bullet icons, etc. with this WordPress PDF Builder.
This PDF generator for WordPress also helps you in other things like changing image scale ratio, adding custom CSS, etc.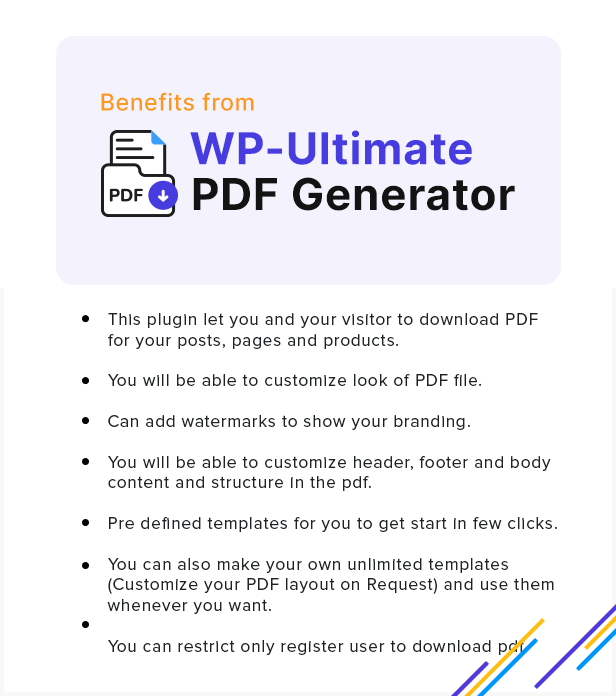 Key Features of WordPress PDF Generator
Personalized Cover Page To Promote Brand
A highly requested feature from our clients. They can now add a personalized cover page that allows users to portray and promote their brand in a beautiful way with this PDF builder. Users can put their brand name, logo, change its size, margin, etc. on the cover pages to display it as they like.
Four New Cover Page Templates
Another popular feature of our PDF generator plugin. We've introduced 4 new cover page templates for different industries that allow admins to make customizable templates for PDF according to their working fields. This makes it easy to design PDF layout and maintain symmetry among different pages.
Cover Page Templates for Branding
We've added 4 new cover templates that can be customized as per admin's demand.
We added 3 default templates in our WP PDF Generator plugin. These templates help you display content for your Post and Product pages in different formats.
This PDF builder for WordPress supports custom post types and prints them in PDF. This means, you can get your live posts converted into a PDF file with merely a click of a button.
It supports custom meta fields and prints them in PDF.
This PDF builder plugin helps you set Custom fonts for PDF. You can get the .ttf for your custom font installed in the plugin by our support. This helps you use custom fonts right away in your generated PDF files.
You can include header logo to PDF. You also get an option to show site name, site description and website URL, besides getting to add the text in custom font.
You can add watermark text and images to make PDFs look wonderful with this PDF maker plugin.
You can customize the content and font of the header section of the PDFs.
You can also upload featured images of your own choice to display on the cover page of your PDFs.
Have ability to generate PDF from cache to reduce load from server and can schedule backup of cache if Your blog is not updating too frequently and many more options
You can add custom style to post contents through custom CSS with this WordPress PDF generator plugin.
In email mode each PDF export link generates a popup window and visitors have to enter an email address to which the created PDF will be sent.
It provides the functionality to deliver the cached PDF to decrease server memory usage if cache is available in the system.
Supports ACF, WP Bakery, Gutenberg
It is compatible with Advanced Custom Fields(ACF) and supports WP Bakery and Gutenberg.
This PDF builder plugin comes with .po and .mo files included for easy translation of the plugin strings in your native language.