Description
What the plugin doesIncrease sales showing a section to suggest items usually bought together with the product watched by your customer.
How you can benefit from it:
You will take advantage of the social proof strategy to encourage users to purchase the products usually bought by other customers and therefore increase the average value of the order;
You will be able to use the plugin to suggest related products that can be interesting to your customers so as to boost your e-commerce conversions. (E.g. e-commerce suggesting a memory card to users purchasing a camera can increase the monthly turnover of 12%)
BUYER PROTECTION
If you are not satisfied with our products, you will receive a 100% refund for any reason. Read more about the refund policy >
This plugin is used by 

5,719

 customers

, with a rating of 

4.5/5

 and a 

97%

 customer satisfaction in support!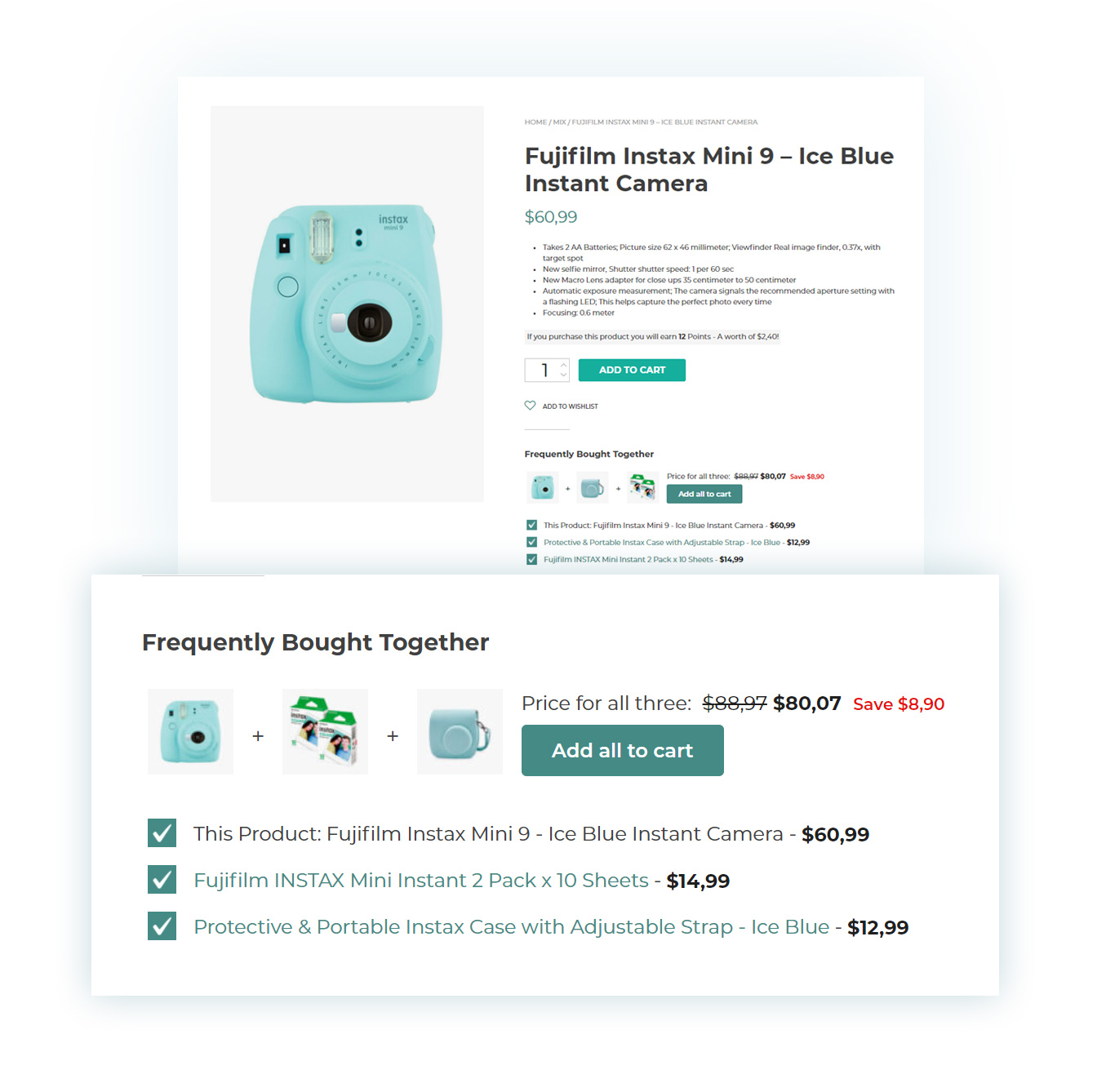 The right strategy to increase your sales
Many statistics carried on most popular e-commerce shops have proved that sales are considerably increased by correct selling strategies, which show even figures are but a really great sale success. Suggested products that users generally buy together is one of the most effective among these marketing strategies.
The right cross-selling strategy in your shop is crucial because it affects conversion rates in a very significant way.
Products suggested as "frequently bought together" are, in fact, much more appealing and customers who see them might be already interested in them. This way, conversion rates are really high.
YITH WooCommerce Frequently Bought Together plugin is the best choice for implementing this feature into your website. You can show products to a highly specific and selected target.
Explicitly designed to let you make your offers in the most direct way ever, a well-planned proposal has double advantages for shop owners and customers. Your suggestions might allow them to save a lot of time and grant you a highly targeted advertising, which is always the most effective one.
Select the recommended products for a targeted upselling strategy
Encourage the user who's checking out a product to add accessories and related products to the cart. You can choose whether to automatically promote the related products, the up-sells or the cross-sells, or pick some custom products to set out a more solid strategy.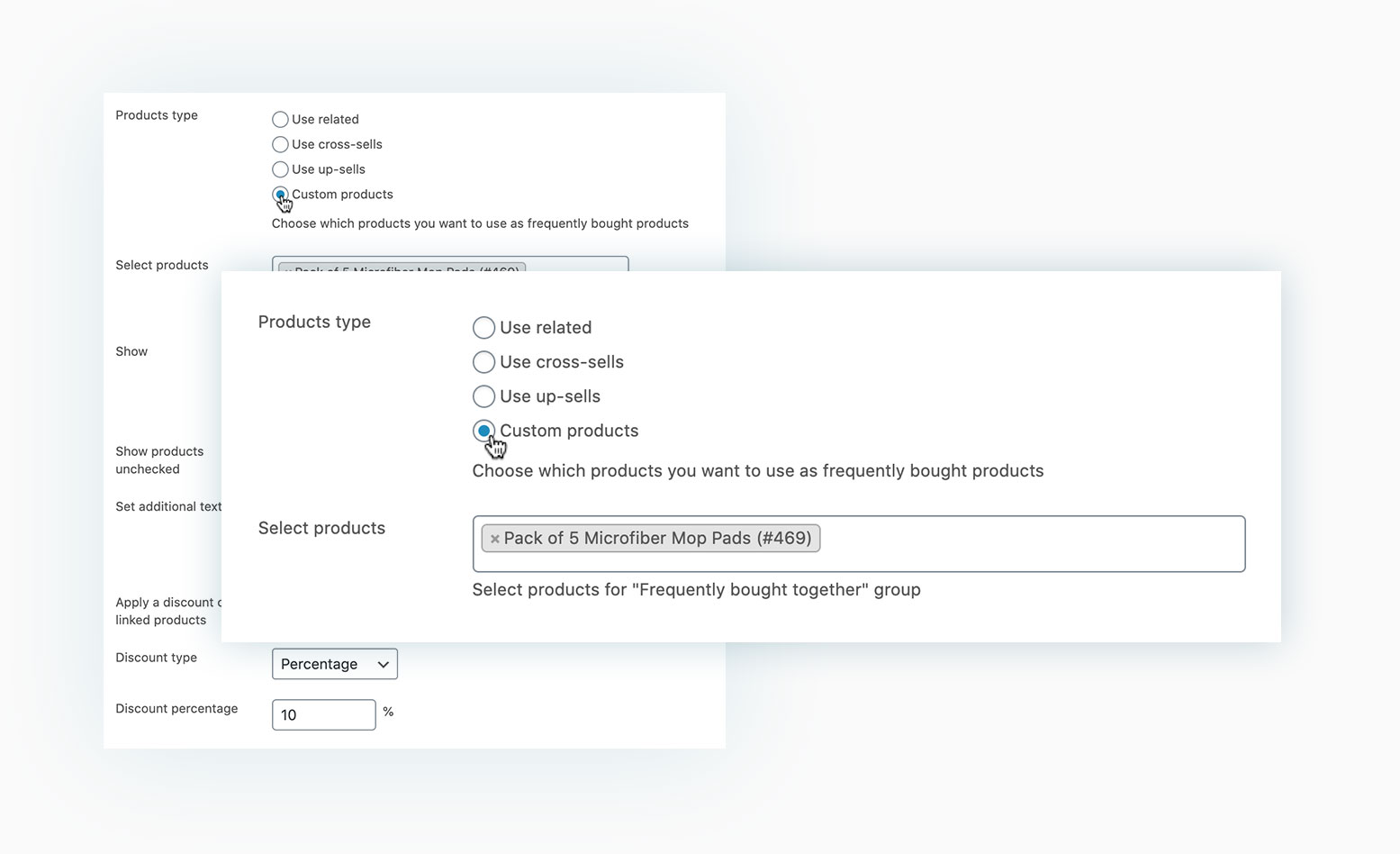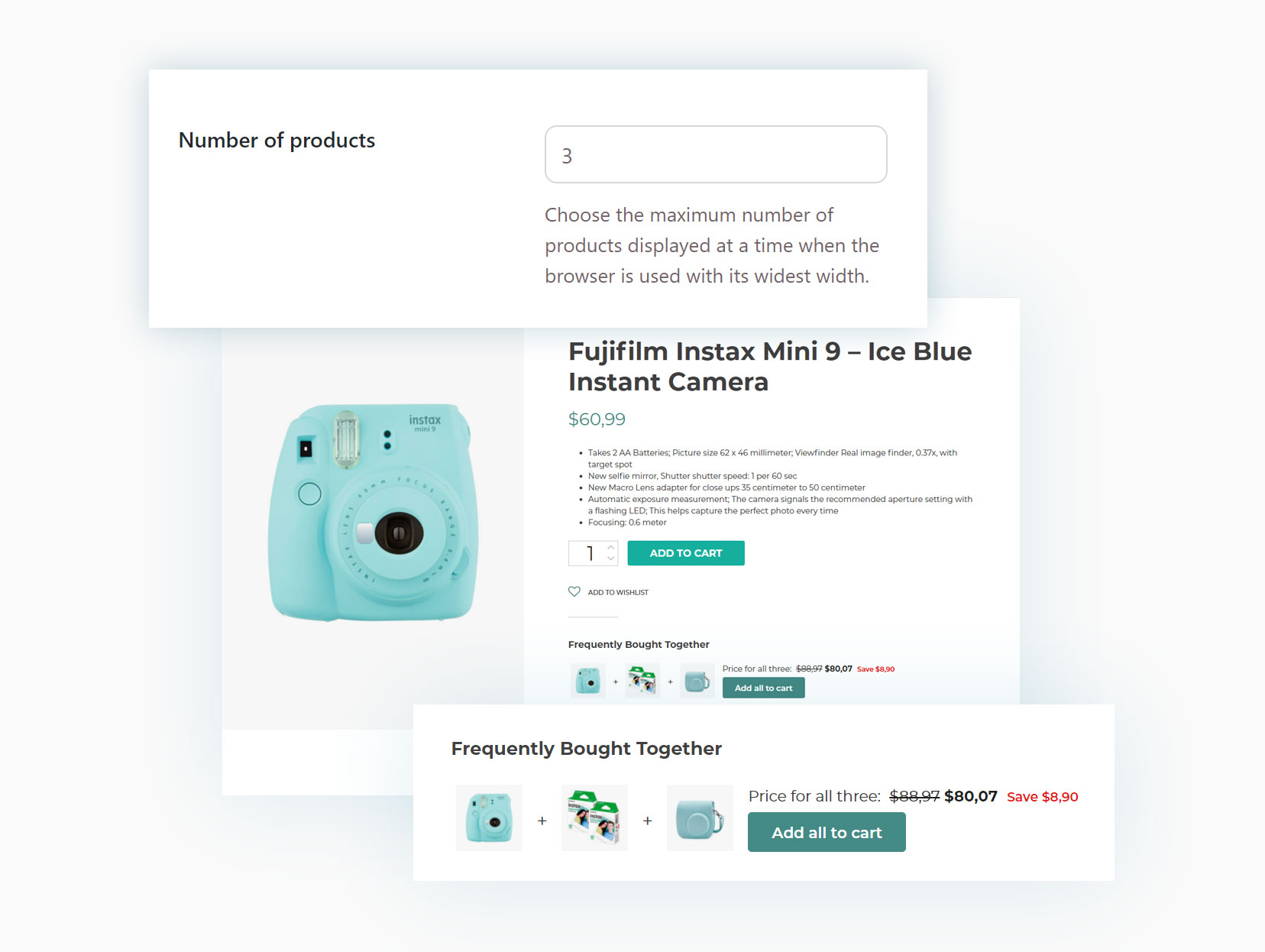 Decide how many products you want to recommend and choose whether to always show the same ones or display them randomly
For every product, you can decide how many objects to show as "frequently bought together". For example, you can recommend 10 products and decide whether to show them all or just some of them randomly and keep your customers' interest high with new products every time.
Set the size of the recommended product image
To make sure that the plugin suits every theme and layout at its best, you can set the size of the suggested products with custom settings.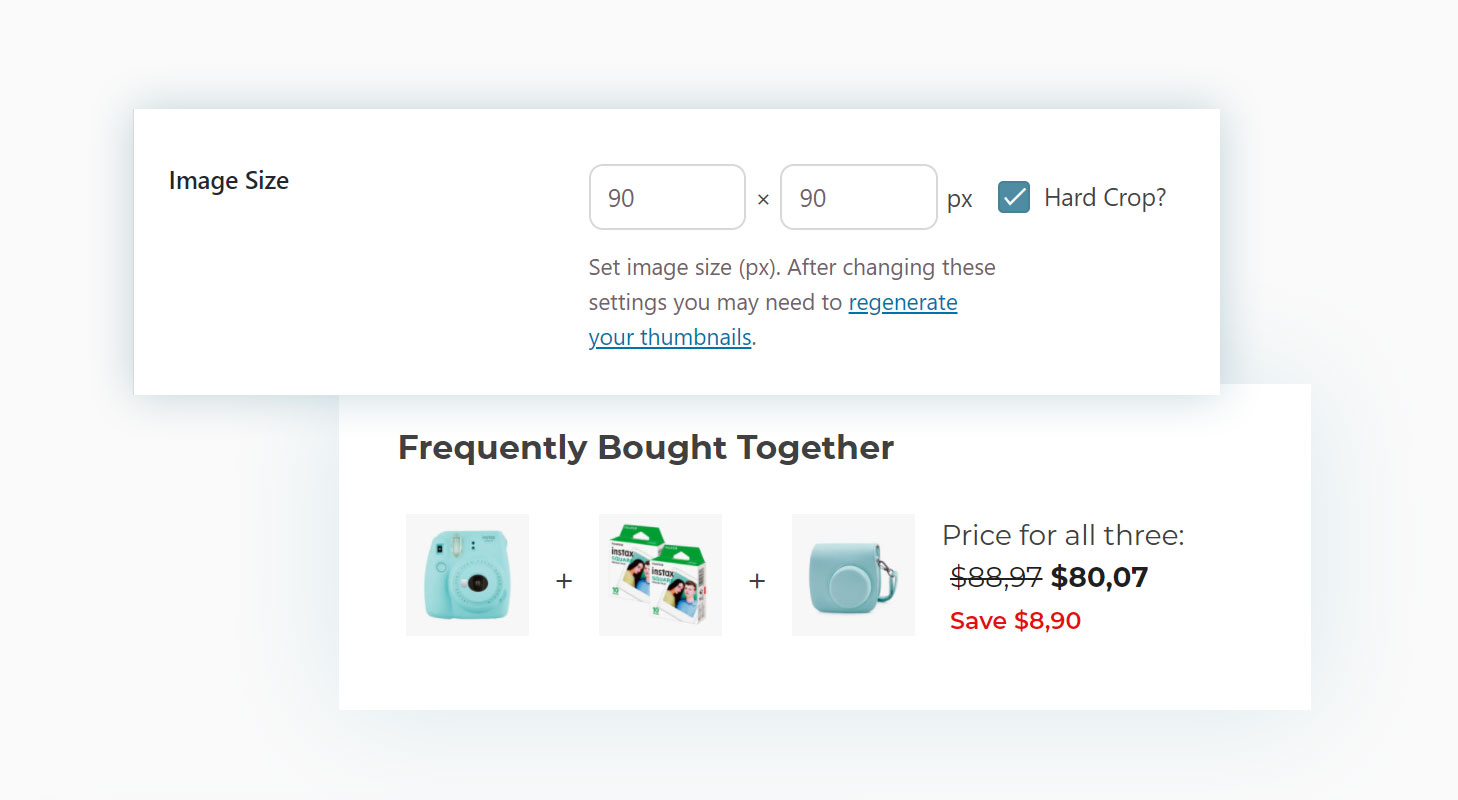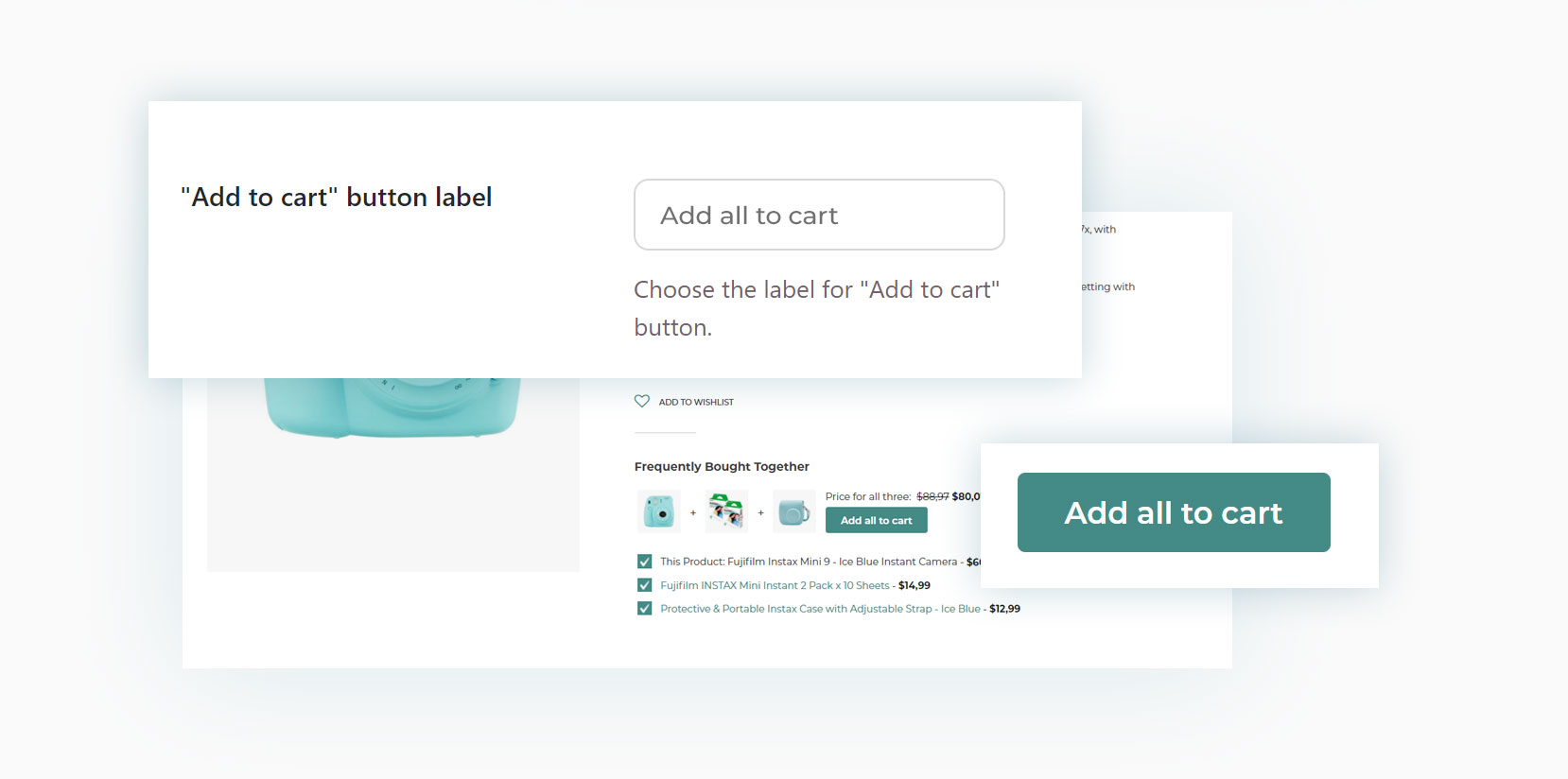 Customize all the texts from the "Frequently bought together" section
The plugin is so versatile that you can customize all the texts displayed to your users, like the section title and the Add to Cart button.
Choose where to show the up-selling product box
Decide how visible your "Frequently bought together" products are by choosing the box position on the product page. You can show the products below the Add to Cart button, below the product tabs or on the bottom of the page. As an alternative, you can also use the built-in shortcode to choose the best position in your shop with more freedom.