ZoomSounds is a complete premium audio plugin for WordPress that allows you to build great audio players and playlists. Engage with your audience with Trending, Likes, and awesome features. Fits your branding with a customizable design and great colors. With nine skins to fit every brand, multiple layouts for the wave skin, only one format required to function, ZoomSounds is the perfect choice for an audio player.
Please rate 5/5 – Updates with features and upgrades come consistently
A simple shortcode is required for the plugin to work – [zoomsounds] – and you do not even have to remember that because there are shortcode generators for both audio file and audio playlists
Supports self hosted mp3 / m4a / wav / aac, and mp3 Shoutcast radio stations + live streams. .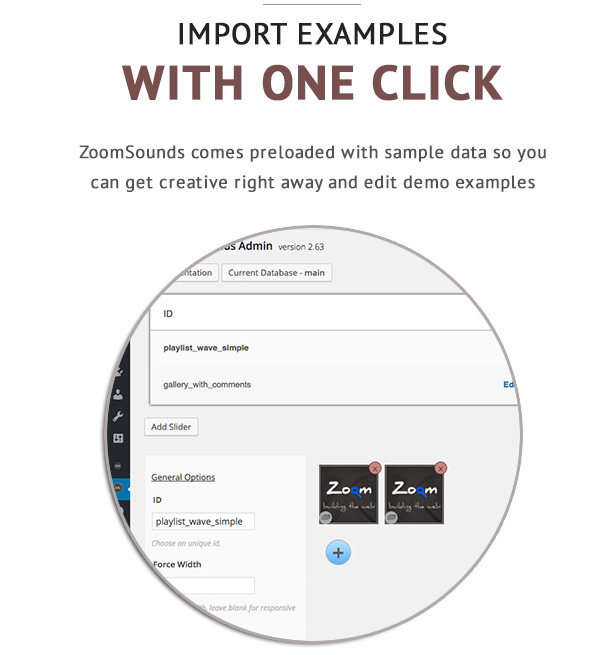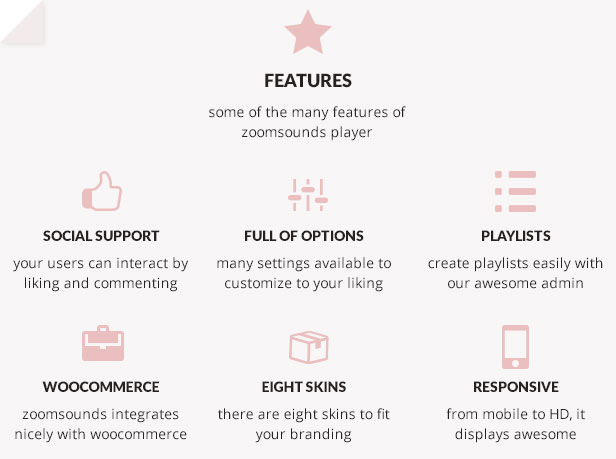 Audio Player Features
Elementor Enabled – support for the most popular page builder
Gutenberg Optimized – up to date with the newest WordPress Editor
WPBakery Page Builder support – support for the Visual Composer
CornerStone support – support for the Visual Composer
Shortcode builder – any page builder can use the generated shortcodes
Anti-download Protection – best in class anti-download mitigation
HTML5 technology – this gallery uses the latest html5 tehniques to deliver a never seen before experience to your clients
fully responsive – looks great from mobile to HD
one mandatory format – the hard part is done by the player script in order for the user to have easy experience editing – only mp3 is required
touch optimized – touch devices are not forgotten
three skins – three full skins to fit every brand
CSS3 technology – this player uses cutting-edge css3 definitions
Amazon aws s3 storage possibility – integrates right away with amazon s3
easy install – purchase, download the zip, read the docs
iPhone / iPad optimized – this gallery has been optimized for Apple touch devices
Android optimized – this component has been tested on Android 4.0 and works awesome
developer / SASS powered – this component's CSS has been built on top of SASS which means SASS users will have an easy time modifying the skins. For non-SASS users it's no problem either because CSS files ( generated by SASS ) are provided
timed comments – allows commenting to be done directly on the timeline
plays from Shoutcast – streams Shoutcast audio radio
can replace default wordpress

shortcode

loop option
100% css skinable – want to make slight modifications to the skins ? The skins are 100% built from the css and it is very easy to edit with css knowledge
radio support – icecast / shoutcast support with optional auto updating of current playing song name
download option – download option for playlists and single players
allow download only for registered users – allow download only for your site users
lifetime updates – this is a one-time purchase and you get lifetime updates, we are updating our products consistently with features
embed codes – enable a embed button for the player or the gallery ( for skin-wave atm )
SEO friendly – built with search engine optimization on mind from the ground up
compatible with all major browsers, including IE – compatible from IE7 to IE10, Chrome, Safari and Firefox
open sounds in ZoomBox – open the player in a commercial lightbox script – ZoomBox
Import folder – import your folders of mp3's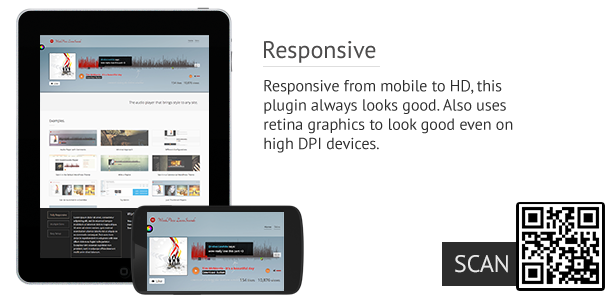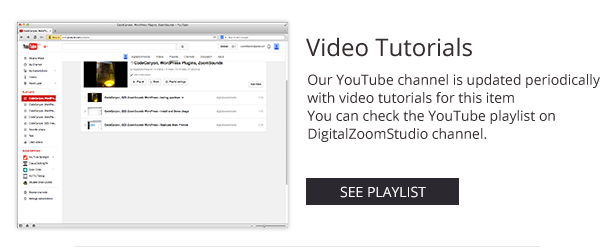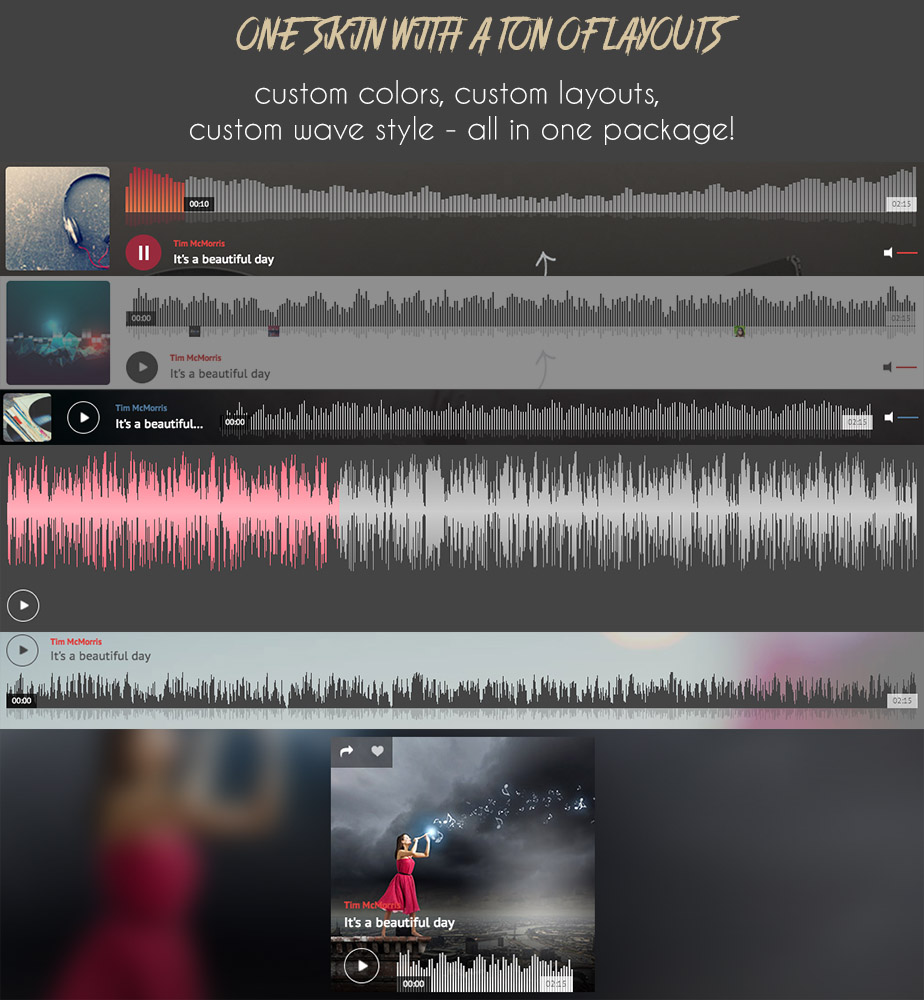 Mobile Optimized

Smooth on mobiles too because of
hardware acceleration. Android 4.4+ Chrome
and iOS testedto deliver super smooth
experience

Generate Preview

Import preview setups with just a click
in the shortcode generator included
Updates / Changelog
For updating, disable and delete the previous version, and install the new downloaded one. Or just unpack the zip you get from the download and overwrite the previous folder from wp-content/plugins/ via FTP
Or use ZoomSounds > Autoupdater for autoupdate
UPDATE 6.73 [ 04/30/2022 ]
[ADD] option for loop playlist
UPDATE 6.71 [ 04/07/2022 ]
[FIX] some bugs with likes and stats
UPDATE 6.60 [ 11/02/2021 ]
UPDATE 6.50 [ 08/25/2021 ]
UPDATE 6.34 [ 04/10/2021 ]
[FIX] multiple stability fixes
UPDATE 6.21 [ 02/21/2021 ]
[FIX] multiple stability fixes
UPDATE 6.10 [ 11/27/2020 ]
[FIX] multiple stability fixes
UPDATE 6.00 [ 10/16/2020 ]
[ADD] new waveform modifier and analyser tool
[ADD] new bulk waveform tool in Settings > System check
[FIX] a bug where the waveform will not be sent for processing in the database
UPDATE 5.96 [ 09/08/2020 ]
[ADD] options for social lightbox shares
UPDATE 5.95 [ 09/01/2020 ]
UPDATE 5.93 [ 08/24/2020 ]
UPDATE 5.91 [ 07/31/2020 ]
[FIX] bug fixes
[ADD] search field in main options
[ADD] async and defer option for loading zoomsounds
[ADD] IE11 compatibility option
UPDATE 5.84 [ 05/26/2020 ]
UPDATE 5.82 [ 05/11/2020 ]
[FIX] colors for waveform and highlight color are now rendered correctly – set default in ZoomSounds > Settings, with the possibility to overwrite in Player Configs
[ADD] support for default settings in audio player configs – tutorial
UPDATE 5.70 [ 01/04/2020 ]
[TWEAK] redesign for playlist shortcode generator
[ADD] new showcase mode – slider_featured
UPDATE 5.60 [ 09/29/2019 ]
[ADD] new import player in one click option in player generator both for gutenberg and player generator
[FIX] some bugs
UPDATE 5.48 [ 08/29/2019 ]
[ADD] Big Wavo layout
[FIX] some bugs
UPDATE 5.31 [ 06/03/2019 ]
[FIX] a bug where Zoomsounds Analytics would conflict with other DZS Plugins analytics
UPDATE 5.30 [ 06/02/2019 ]
[ADD] shoutcast support with current playing song
[ADD] icecast support with current playing song
[FIX] bugs
UPDATE 5.18 [ 03/23/2018 ]
[FIX] bug with wpbakery page builder
UPDATE 5.12 [ 02/24/2018 ]
[FIX] a bug with avada fusion builder
UPDATE 5.04 [ 02/07/2018 ]
[FIX] a bug where the settings array would appear
UPDATE 5.03 [ 02/04/2018 ]
[FIX] buttons not appearing in classic editor
UPDATE 5.00 [ 12/27/2018 ]
[ADD] gutenberg gallery block
[ADD] gutenberg player block
[ADD] gutenberg player block
[ADD] support for ICECAST radio station
UPDATE 4.63 [ 08/20/2018 ]
UPDATE 4.51 [ 04/28/2018 ]
[FIX] some bugs
[ADD] some examples to one click importer
[TWEAK] updated documentation with new admin photos
UPDATE 4.47 [ 03/28/2018 ]
[FIX] some bugs
[ADD] amazon s3 support for reading files
UPDATE 4.32 [ 02/02/2018 ]
[FIX] some bugs
[ADD] custom controls
UPDATE 4.20 [ 12/22/2017 ]
[FIX] some bugs
[FIX] some bugs with custom color not showing in single player
[TWEAK] reworked single player generator
[ADD] analytics button for single player
[ADD] custom buttons controls in player generator
UPDATE 4.15 [ 12/18/2017 ]
[FIX] some bugs
[ADD] caching option for total time of the track
UPDATE 4.10 [ 11/25/2017 ]
UPDATE 4.00 [ 11/02/2017 ]
Major update: A new admin has been introduced. This is designed from the ground up, based on feedback we received over the years for the old one. It is ajax enabled and changes are updated nearly instantly. Because the legacy admin and the new one are not compatible ( are based on different principles ), the change will not be done automatically. But, exported sliders from the old one are converted on import to the new one.
With that in mind, new install will upgrade the new admin directly. And current install will keep legacy admin, until administrators are ready to upgrade. If you want to import your legacy galleries, just export them from the legacy admin, switch to the new one ( from ZoomSounds > Settings > Playlists Mode ) , and import them into the new one.
[ADD] revamped admin panel for galleries
[ADD] duplicate support for player configurations
[ADD] new optional info button for skin-wave
[ADD] new demo in One click import
[TWEAK] waveforms are smaller in size
[ADD] specify wave form accuracy in settings
[ADD] option to clear all waveform data ( settings > delete settings > clear wave data )
UPDATE 3.40 [ 09/15/2017 ]
[TWEAK] youtube video stream displays too for youtube audio
[ADD] autoupdate support
UPDATE 3.33 [ 08/18/2017 ]
UPDATE 3.32 [ 07/16/2017 ]
[ADD] multiple options added for adding html in the player in special places ( after play button etc )
[ADD] now sample times can reflect times from the same preview track ( not from the download track )
[FIX] zoomsounds tab in woocommerce not showing anymore
[FIX] some bugs
UPDATE 3.31 [ 07/05/2017 ]
[ADD] custom buttons in player configurations
[TWEAK] fixed a bug in preview
UPDATE 3.30 [ 06/22/2017 ]
[FIX] multiple bugs with footer players
[ADD] scrubbar now shows hover time in the current time field
[TWEAK] added examples to preview
UPDATE 3.24 [ 06/07/2017 ]
[ADD] play default player in footer option
UPDATE 3.24 [ 05/12/2017 ]
UPDATE 3.23 [ 05/08/2017 ]
[ADD] option to hide or show number
[FIX] highlight color on player
[FIX] some bugs
[ADD] color higlight now works for skin-pro too
UPDATE 3.21 [ 04/25/2017 ]
[FIX] some bugs
[TWEAK] improved thumbnail generation for media files in playlists
UPDATE 3.12 [ 04/10/2017 ]
[ADD] play woocommerce loops in footer player option
[TWEAK] updated preview
UPDATE 3.10 [ 04/05/2017 ]
[ADD] image, title and description to facebook share button
UPDATE 3.04 [ 03/25/2017 ]
[ADD] possibility to have players above the woocommerce single item page and woocommerce shop page
[TWEAK] reworked settings page
[FIX] some bugs
UPDATE 3.03 [ 03/15/2017 ]
[ADD] download counter
[FIX] some bugs
UPDATE 3.01 [ 03/04/2017 ]
[FIX] fixed buttons above editor
UPDATE 3.00 [ 02/18/2017 ]
[ADD] shortcode generator for the player
[ADD] wrapper image option for the player
[ADD] visual composer support
[ADD] cornerstone support
[TWEAK] reworked live spectrum – now much smoother!
[TWEAK] reworked shortcode buttons
[TWEAK] reworked preview
[FIX] several bugs
UPDATE 2.75 [ 11/25/2016 ]
[ADD] options for wave bar space and gradient option for the waveform
[FIX] several bugs
UPDATE 2.72 [ 11/25/2016 ]
[FIX] some bugs with view counter
UPDATE 2.70 [ 11/06/2016 ]
[ADD] mode nocontrols for skin-wave
[ADD] reflecto wave canvas mode
[ADD] hover to play option
[ADD] grid noir
UPDATE 2.64 [ 10/16/2016 ]
[FIX] fixed comments
[FIX] slider export
[FIX] next button used to go to the previous playlist item
[ADD] sample playlist with comments, likes and views functionality enabled
UPDATE 2.63 [ 10/13/2016 ]
[TWEAK] footer player now displays author and track name for woo grid
UPDATE 2.62 [ 10/11/2016 ]
[FIX] fixed footer player working with PLAY button ( woo grid 1 )
[TWEAK] now skin-silver reacts to a wider area of the scrubbar / volume bar
UPDATE 2.61 [ 10/02/2016 ]
[ADD] the new options for button skin for the skin-wave
[TWEAK] embed code now displays as a button when other under player text is present ( like like button enabled or view count enabled )
[TWEAK] remove image waveform fields where no longer necessary when the new canvas wavemode is on
UPDATE 2.60 [ 09/27/2016 ]
[TWEAK] redesigned most buttons
[TWEAK] updated preview
UPDATE 2.51 [ 08/02/2016 ]
[FIX] some bugs
[ADD] new canvas wave mode
[TWEAK] updated preview
UPDATE 2.46 [ 06/15/2016 ]
[FIX] some bugs
[TWEAK] modified skin-wave layout on mobile
[TWEAK] updated preview
[ADD] ability to have custom link on buy button for grid style 3